Participants must pre-register – limit of 12 participants per session. Register at any Y Welcome Desk or call 761.3225.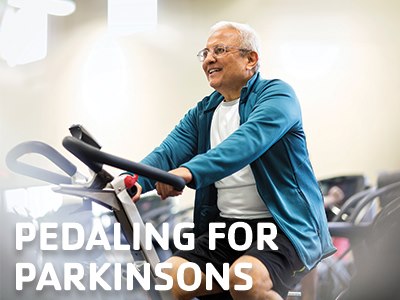 Pedaling for Parkinson's is a 12-week program that is held at the West Y. The next session dates are to be announced.
Approximately 7 to 10 million people in the world live with Parkinson's disease. Parkinson's is a chronic, progressive neurological disorder where part of the brain gradually becomes more damaged as the years go by. The main symptoms of the disease are movement related.
The benefits of cycling for individuals with Parkinson's disease and extensive research from the Cleveland Clinic has concluded that cycling may provide symptomatic relief for those living with the disease. Researchers found cycling, especially at rates above what a participant would normally choose, appeared to make regions of the brain that deal with movement more effectively connect to each other.
The Parkinson's Cycling Program is useful for people with Parkinson's disease due to the balance challenges that many experience. Indoor group cycling led by a trained coach provides a monitored and safe exercise protocol. The participant is able to pedal in a controlled environment while being observed as well as coached properly.
DAYS: Monday/Wednesday – TBA  (3 month program)
TIME: 11-11:45 a.m.
PLACE: Hartsfield Y MPR – 3507 Amazonas
COST: FREE Y-members; $120 for non-members (3 month program)