NEW beginning Sept. 1 – DANCE FITNESS is a high intensity dance party that fuses cardio, strnegth, Latin dance and hip hop. Join us on Tuesday and Thursday at 5:35 at the West Y!
EARLY BOOTCAMP
Half of the battle is just showing up, let us take care of the rest! This class is a true fitness challenge sure to enhance cardiovascular endurance and strength. Great class for those looking to kick up their fitness program!
EXTREME BOOTCAMP
Two personal trainers for the price of one. This high energy class will burn serious calories. Kick up your fitness program.
MID-MORNING BOOTCAMP
Kick up your fitness routine each Tuesday and Thursday with a great mid-morning workout.
SWEAT BOOTCAMP
A weekly boot camp that includes obstacle courses and workout challenges that will make you fitness-ready!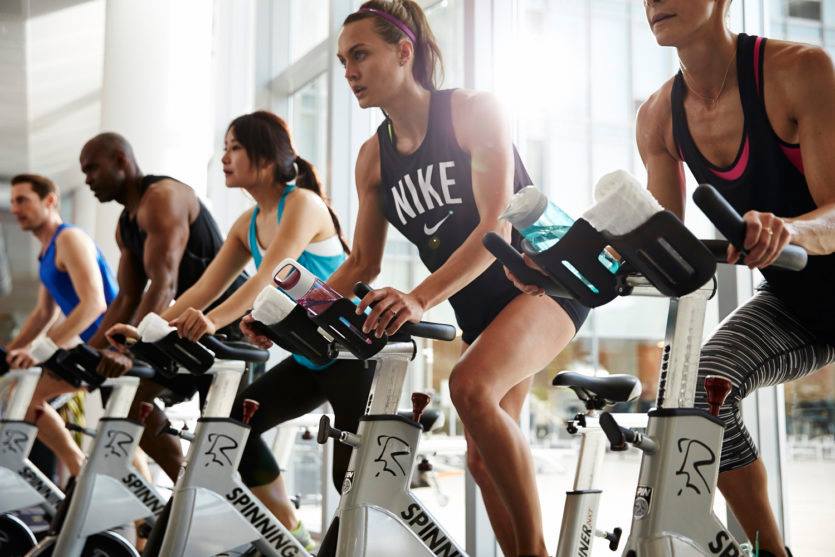 SUNRISE CYCLE
Start your day with a cardio challenge! Burn calories, add strength and endurance, decrease stress. The perfect trio.
CYCLE
A true cardio challenge linking the mind and body in an incredible, low impact workout.
SUNDAY CYCLING
Try this hour and a half ride to get your day started.
YOGA BASICS
For the person who is new to Yoga or wants a refresher on the "basics."
MID-DAY YOGA Hectic morning? Afternoon not much better? This 30-minute class offered during lunchtime will provide coping techniques such as restorative breathing exercises, stress reduction and mental clarity in addition to improved flexibility and strength for an overall increased feeling of well-being!
AFTERNOON YOGA
This is a complete workout blending balance, strength, flexibility and power in a fitness format. Yoga improves cardiovascular endurance, core strength, posture, flexibility, range of motion and concentration.
YOGA FITNESS
Offers a high energy workout with an emphasis on strength, concentration and flow. This powerful vinyasa format is designed to strengthen your body and stretch your mind. Prior Yoga experience required.
GENTLE YOGA
Gentle yoga is prenatal friendly and designed for all ages who prefer a slower paced or more relaxed practice. The pacing of the gentle classes is mindful and slow, allowing time to move from one posture to the next or simply stay where you are if that is what your body is asking for on a particular day.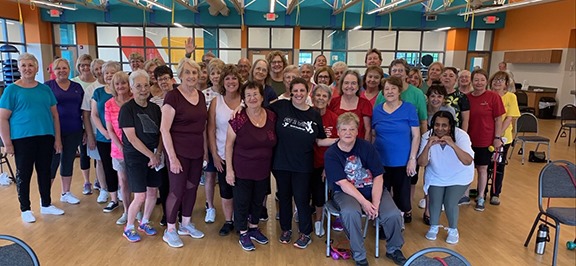 SILVER SNEAKERS CLASSIC
The YMCA is proud to partner with Tivity Health to offer a variety of fitness formats for seniors that are multi-level, equipment-based, total-body conditioning classes. The programs objectives are to minimize age-related physical limitations, improve health and skill-related fitness to increase functional activity for daily living, and increase one's sense of well-being. (Also offered off-site. See Group Exercise schedule for details)
SILVER SNEAKERS YOGA
This class will move your whole body through a complete series of seated and standing yoga poses. Chair support is offered to safely perform a variety of postures designed to increase flexibility, balance and range of movement. Restorative breathing exercises and final relaxation will promote stress reduction and mental clarity.
FOREVER FIT
From low-impact aerobics, core strengthening using an exercise ball, "mix" class on Wednesday, circuit training on Thursday and a Yoga on Friday, you'll burn calories, strengthen your heart, increase muscular strength, improve flexibility and balance and have fun while doing it.
POUND
Instead of listening to music, you become the music in this exhilarating full-body workout that combines cardio, conditioning, and strength training with yoga and pilates-inspired movements. Using lightly weighted drumsticks engineered specifically for exercising, POUND transforms drumming into an incredibly effective way of working out. Designed for all fitness levels.
STRONG NATION
Combines body weight, muscle conditioning, cardio and plyometric training moves synced to original music that has been specifically designed to match every single move!
BODY PUMP
Improve your general fitness, shape and tone your muscles, and protect your bones and joints with LES MILLS BODYPUMP. It's a fun and energizing barbell program that helps you connect with others and improve your overall health.
CROSSBOX
Put a little punch in your day! This class keeps them coming back. . . using a variety of equipment including versa bars, ropes and weights, combined with traditional boxing elements. Never the same workout twice and always a fitness hit.
PILATES
Pilates is a fitness discipline that develops a strong core or "powerhouse" with emphasis on spinal and pelvic alignment and breathing. It builds flexibility, endurance, and muscle strength. It improves balance and circulation and reinforces musculature and correct posture. Combinations of basic and challenging exercises with variations using bands and stability ball. Instructor modifies for all levels of fitness.
FITNESS FUSION
This class will consist of stretching, toning and conditioning the overall body. Aspects of many forms of exercise including Yoga, Pilates, light weight and cardiovascular training.
BUTTS & GUTS
30 minute class designed to target the glutes and core muscle groups for a fun and challenging end to the day.
HIGH FITNESS
High Fitness is a hardcore fun fitness class that incorporates interval training with music you love and intense easy to follow choreography.
TRX
TRX suspension training develops strength, flexibility, balance and core stability simultaneously. Using the TRX suspension trainer our instructors will teach you how to leverage gravity and your body weight to perform hundreds of exercises.
CORE & MORE
This class incorporates exercises that will strengthen the body's core muscles (area between shoulders and hips), including abdominal and back muscles.
BARRE & MORE
Barre and More is a hybrid workout class – combining ballet-inspired moves with elements of Pilates, dance, yoga and strength training.
DANCE MIX
Do you like Zumba and a little hip in your hop? Instructor Leslie brings her experience of dancing as a professional cheerleader for the arena football league and ten years of teaching dance to the Saturday Dance Mix class. You're going to have happy feet….we promise!
ZUMBA
Zumba is a fusion Latin and international music dance themes that create a dynamic, exciting and based on the principle that workouts should be fun and easy to do.
STEP IT UP & MORE
Increase overall level of cardio fitness while toning and strengthening total body. Variety and fun mixed with great music to keep you moving.